Pool
Ocean View
Mountain View
City View
Rates upon request
5 Bedrooms(16 guests)
5.5 Bathrooms(5 ensuites)
Villa Zefira is an incredible villa just a 5-minute walk from the world famous Piazzetta and the center of Capri, offering 5-star deluxe accommodations, amenities, and breathtaking sea views over the Bay of Naples and Mount Vesuvius. This luxury villa boasts a spa with indoor 'pool' with hydromassage.
On the ground floor, you will find the living room with two large panoramic windows with beautiful artwork. The dark blue walls are in deep contrast to the white panels and clean style of the white furniture. Bang & Olufsen TV (85 inch), dolby surround stereo system, parquet floor. The living room has three white sofas with plenty of colorful cushions making it comfortable seating even for a larger party.
Adjacent to the living room lies the dining room with a beautiful wooden table with seating for 14 guests, large flat screen TV. Large window bringing in the sunlight. Dolby surround system. Area with a second table seating up to 8 guests, used for the breakfast buffet. The dining room has direct access to the courtyard with the outdoor pool.
The kitchen can be used by staff or by guests directly. Large grey tiles, sink, dispenser, fridge, freezer, microwave oven, toaster, coffee machine, blender. Grill, wok, 6 range stove-top, 2 wine fridges. The kitchen has direct access onto the courtyard and on the other side to the dining area.
Courtyard with three lounge chairs, sunbed sofa, white cushions, 6 chairs, coffee table. Stone pavement or pebble stones. Large flat screen TV. Large 4 person sofa with small tables, 4 poufs. Classical style, majestic with rare elegance. A wall with edera plants gives an almost exotic feeling to the place.
Guesthouse – Mezzanine floor:
11 steps up lies the outdoor heated pool, the teak terrace surrounding it offers two sun lounge chairs, a patio with a 3-person, sofa, 2 armchairs, and a wooden topped table. Outdoor shower. The entire area is lighted a night. Dolphin hydro bike as an external gym accessory. 6 steps down from the pool lies the guesthouse with the two guest bedrooms: A separate building hosts two interconnecting bedrooms; both rooms have a terracotta tiled floor and doors opening onto the heated pool area.
First floor – Main building :
Master Suite (98 sqm): A day dream with a master view. The master suite has beautiful photographic art work of the Italian artist Giovanni Ricci Novara.  The ensuite has a large bath with Jacuzzi and large window onto the courtyard. Marble shower, two separate toilets. Two chests/set of drawers. Adjacent corridor with a corner for make-up application or a quick refresher, furnished with a desk with a large round mirror. The master Suite opens onto a private terrace facing the indoor pool area and offers guests a dreamlike view onto the Mount Solaro, while the panoramic window allows you a glimpse of the Bay of Naples from the suite itself. Access to a private terrace furnished with sun lounge beds and a small wooden table.
The main floor also has the Blue Suite and the Circus Suite.
25 steps up lies a terrace with mosaic tiles on the floor. 4 glass-topped tables & 16 chairs.  Beautiful view onto the Bay of Naples with ischia island and Mount Vesuvious. 2 steps futher up is a daybed (here we are 2 above the main pool level)
Basement Level:
The Spa lies on the basement floor below the main villa; the entire area has been excavated from the rocks and it has wooden parquet, shower, toilet, 3 corner sofas, soft lightning. Second area with massage bed, shower with different temperatures (sensory showers) and pebble stone floor, wooden parquet. Gym with the following facilities: Treadmill, Exercise Bike, Multimachine weight machine. Large flat screen TV. Audio system.  1 step up lies the Turkish bath. Indoor pool heated (can be heated to 35°) with hydromassage (4 steps down from the pool).
Swimming Pool:
The villa features two outdoor pools; One is heated, one (the larger one) is not heated. The indoor SPA has its own (third) pool with hydromassage (can be heated to 35°).
Access & Parking:
Access: The main entrance is available from a pedestrian street by walking up 17 steps to reach the courtyard.
Bedroom 1

2 King beds
Ensuite Bath
Air conditioned
Guest House (Mezzanine floor): Two sets of King size canopy beds (160 cm x 200 cm each), small flat screen TV, safety box, wardrobe. 2 large windows facing the heated pool. En-suite bathroom with large shower

Bedroom 2

King bed
Ensuite Bath
Air conditioned
Guest House (Mezzanine floor): King size canopy bed (180 cm x 200 cm) Flat screen TV, DVD, stereo, safety box, 2 wardrobes. Window with panoramic view. En-suite bathroom in marble with large shower box and double sink.

Bedroom 3

2 Double beds
Ensuite Bath
Air conditioned
First Floor - Primary Suite: Two sets of king size beds (160 cm x 200 cm), 2 large couches and smaller tables. Bang & Olufsen TV 75', Dolby Surround. Walk in closet, living area, Safety box, Nespresso machine. Walk in closet in wood and glass; separate area just for shoes!

Bedroom 4

King bed
Ensuite Bath
Air conditioned
First Floor - The Blue Suite: Mirrored wall, Sea view, King size bed (189 cm x 200 cm) and parquet floor. En-suite bathroom in marble with Jacuzzi tub for 2 people; the bath has a panoramic window. Safety box, Movie projector, Bang & Olufsen Tv (55 inch), Dolby Surround, Sofa Area, Walk-in closet.

Bedroom 5

2 Queen beds
Ensuite Bath
Air conditioned
First Floor - The Circus Suite: Large Suite with two sets of king size circular beds (238 cm diameter), sofa area, wooden closets, Murano Chandelier Bang & Olufsen TV (55 inch), Dolby surround, Safety box, Sofa. Panoramic window with sea view. Private bathroom bathtub & large shower in marble with double sink.
Fully-equipped villa, offering
many features and amenities
Indoor
Central AC
Wifi
Alarm System
Satellite TV
Indoor Sound System
Gym
Home Office
Spa Room with massage beds and sensory showers
Turkish Bath
Outdoor
Pool

3 Pools: Outdoor pool, Outdoor heated pool with hydromassage, Indoor pool with hydromassage.

Alfresco Shower
Alfresco Dining
Outdoor Sound System
Beach Chairs and Loungers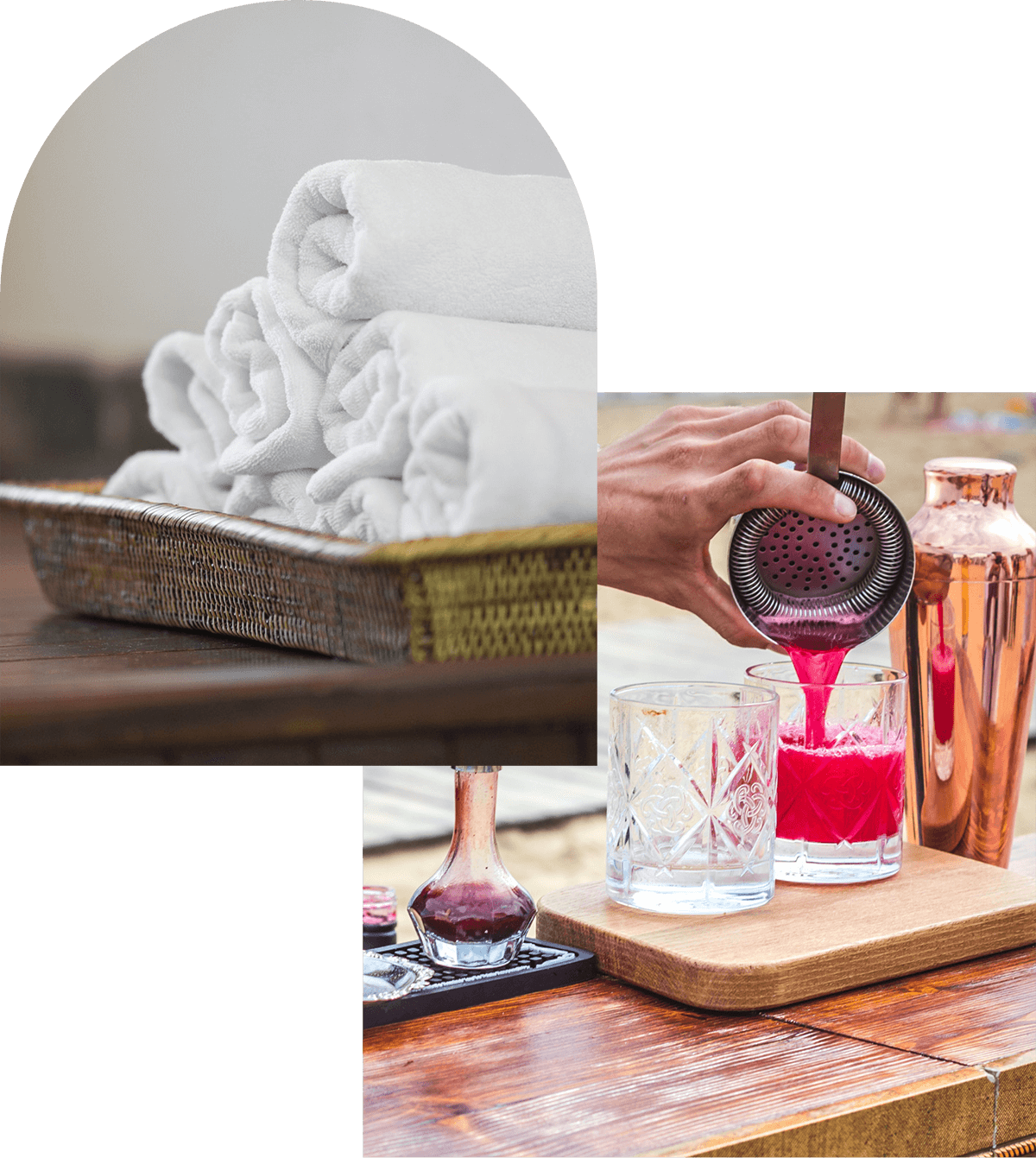 Additional services offered at Villa Zefira
Included
housekeeper

2 Maids daily (morning and evening), Towels changed daily, bed linens changed twice a week

butler

10 am - 7 pm

Gardener and Pool Maintenance
Continental breakfast provided every morning
Add-on
Chef
Airport Transfer
Car Rental
Pre Stocking
Child Care
Spa Services
Additional information & house rules
House Rules
No Pets
No Smoking
Suitable for children (2-12)
House Rules
No Pets
No Smoking
Suitable for children (2-12)
Security deposit to be to be paid in advance by credit card or wire transfer
Copy of passport and current home address of each guest must to be provided prior to check in. Current passport numbers of all guests are required by law and are registered with the local authorities
Only authorized staff and personnel are permitted to be onsite. This includes but is not limited to chefs, cooks, housekeepers etc. Talk to your Villa Specialist today for more details.
Water and electricity in Italy are precious resources. Please use them sparingly.
Check In - Check Out
4:00 pm - 10:00 am
The villa address will be provide at the time of booking.

You're always our top priority–we've got you covered on all your travel needs before, during and after your stay.
Our standards are high. Each and every villa we offer has been visited or thoroughly reviewed by a member of our team.
We only work with partners we know and trust, so you can count on them to reflect our values and standards.
Our mission is to transform our experience and relationships into a unique offering for you.
Hand-selected villas with features similar to Villa Zefira
Thank you for contacting us!
A Villa Expert will be in touch with you shortly. If you want to speak to someone immediately, please give us a call.
Toll Free: 1-888-277-8882
International: +1 514-400-5151
Hand-selected villas with features similar to Villa Zefira
Toll Free: 1-888-277-8882
International: +1-514-400-5151