Modern villa
Pool
Ocean View
Beachfront
$1,000 - $2,429USD per night
3 Bedrooms(6 guests)
4 Bathrooms(3 ensuites)
Located in the Terres Basses community close to all the amenities and right on the beach, we love the simple, chic style and "chilled out" vibe of this villa.
The hip beach house for Rock aficionados located right on the meeting point of the two fabulous Terres Basses beaches of Baie Longue and Plum Bay on French St. Martin's south west coast, Rock Sea offers a contemporary upbeat decor in a chilled and naturally beautiful beachfront setting.
This unique property constructed in three independent modules has walkways raised above the sand that traverse through a garden of coconut palms, sea grape trees and large beach boulders connecting the communal living spaces with the three bedrooms and the outdoor pool and deck area. The cool minimalist decor features contemporary furnishings and detailing and artwork giving homage to the great rock legends.
Situated to the rear of the house, an iridescent pool tiled in mosaic shimmers in the sun like the scales on a fish in light red, blue, and silver and is surrounded by a raised deck with poolside loungers, large parasols and an outdoor shower. A walkway from the pool leads to the central kitchen area and a wonderful rooftop viewing terrace furnished with parasols and giant fatboy daybeds that overlooks the entire length of Baie Longue beach and the sea, all the way to the Hotel La Samanna at the far end and the coastline of Dutch St. Maarten beyond. Below, the kitchen is completely open and faces the sea with Velvet Underground wall art and a modern mix of natural wood cabinets, sleek black countertops and polished concrete. To one side is an outdoor covered dining area with a gas grill and a guest bath on the other side with an outdoor rain-head shower.
Along a walkway to the right of the kitchen is the master bedroom with its own deck area facing the sea and a private beach area with a hammock just in front. The "Bowie" bedroom is spacious with an unhindered view of the sea from the large glass sliding doors. It has a walk-in closet and features a sleek and very masculine "obsidian" bathroom with a toilet and urinal and a large open shower. Rock Sea also has its own signature black towels with the iconic Rolling Stones tongue and lips emblem.
The villa's two other bedrooms are housed in the third building along with a living room furnished with chic, modern white cane couches, a gigantic ceiling fan and Rolling Stones wall art. The bedrooms, situated on either side of the living room and fronted by coconut palms, face the sea and each has its own luxurious private bathroom. A one-of-a-kind beach house, Rock Sea offers a unique destination for a Caribbean vacation in a paradisiacal beachfront setting.
Housekeeping is provided every other day except holidays & Sundays.
Bedroom 1

King Bed
Ensuite Bath
Air conditioned
Master Suite: Located in a separate pavilion, TV, Walk-in Closet, Ocean View, Private Deck, Private Beach section

Bedroom 2

Queen Bed
Ensuite Bath
Air conditioned
Located in Living Room Pavilion, TV, Ocean View

Bedroom 3

King Bed
Ensuite Bath
Air conditioned
Located in Living Room Pavilion, TV, Ocean View
Fully-equipped villa, offering
many features and amenities
Indoor
AC in bedrooms only
Wifi
AC in the Living Room
Smart TV
Outdoor
Pool
Alfresco Dining
BBQ
Beach Chairs and Loungers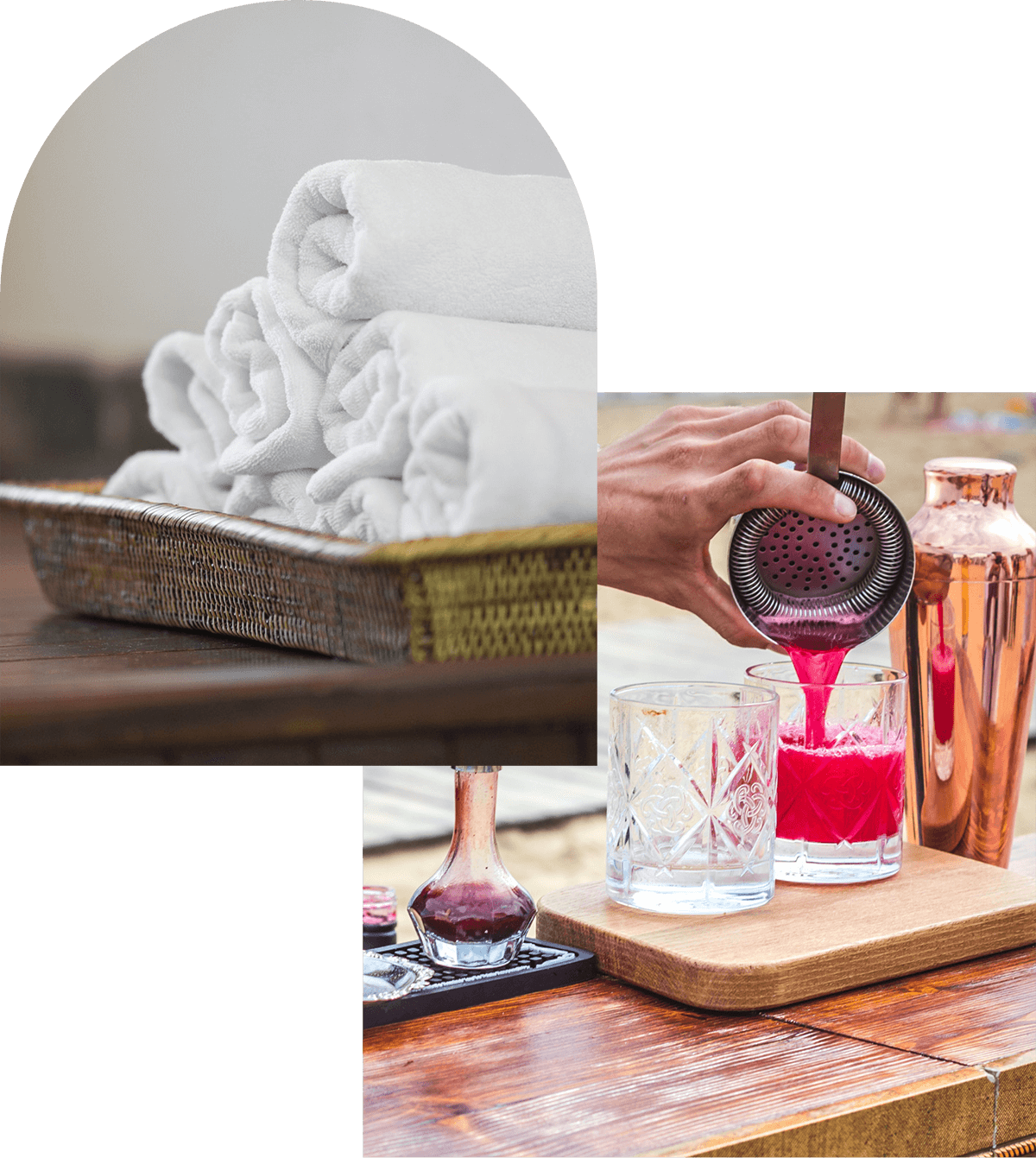 Additional services offered at Rock Sea Villa
Add-on
Chef
Butler
Airport Transfer
Car Rental
Pre Stocking
Additional information & house rules
House Rules
No Pets
No Events
No Smoking
House Rules
No Pets
No Events
No Smoking
Check In - Check Out
4:00 pm - 11:00 am
St. Martin, Terres Basses
The villa address will be provide at the time of booking.

You're always our top priority–we've got you covered on all your travel needs before, during and after your stay.
Our standards are high. Each and every villa we offer has been visited or thoroughly reviewed by a member of our team.
We only work with partners we know and trust, so you can count on them to reflect our values and standards.
Our mission is to transform our experience and relationships into a unique offering for you.
Hand-selected villas with features similar to Rock Sea Villa
Thank you for contacting us!
A Villa Expert will be in touch with you shortly. If you want to speak to someone immediately, please give us a call.
Toll Free: 1-888-277-8882
International: +1 514-400-5151
Hand-selected villas with features similar to Rock Sea Villa
Toll Free: 1-888-277-8882
International: +1-514-400-5151