$600 - $1,063USD per night
4 Bedrooms(8 guests)
2 Bathrooms(1 ensuites)
We chose this home for it's ideal location – walking distance to great restaurants, amenities and nightlife, less than 5 minutes drive to the Sunset Strip and easy access to The Hollywood Hills, Santa Monica, Venice Beach, etc…
Sometimes Los Angeles can seem like a never-ending urban. However, this property is the perfect oasis of respite for the savvy traveler to West Hollywood. With a highly convenient location for the upmarket visitor to LA, this serene and stylish West Hollywood luxury vacation rental is sure to delight a refined palate.
For those interested in the finer things, Melrose Oasis is ideally located, even compared to other vacation rentals in West Hollywood. A mere block away from the famous shopping district of Melrose, guests can breakfast in the pristine walled garden before putting on shades and sauntering down to experience some of Los Angeles' best boutique shopping outside of Beverly Hills. Of course, Rodeo Drive is only 20 minutes drive away, if your family and friends tire of the local fare in Melrose Avenue.
This four-bedroom house in West Hollywood's affluent Crescent Heights corridor offers sleeping room for 8, with a splendid master suite featuring a private patio and ensuite bathroom. The open floor plan of the home provides an excellent indoor-outdoor flow for the ideal SoCal al fresco lifestyle. Of course, with so many top restaurant options within walking distance, or three minutes drive away on Los Angeles' revitalized Sunset Strip, you may not have the inclination to take advantage of the designer kitchen. The eternal dilemma of the Los Angeles vacation rental: eating out at one of the West Coast's finest establishments, or using the magnificent kitchen?
Enjoy multiple deck and patio areas, hidden garden cove's with different set-ups for lounging, al fresco dining or just sitting outside and enjoying the SoCal weather!
Bedroom 1

King Bed
Ensuite Bath
Air conditioned
Master Suite: Private Patio

Bedroom 2

Queen Bed
Air conditioned
Direct access to backyard patio
Fully-equipped villa, offering
many features and amenities
Outdoor
Alfresco Dining
Beach Chairs and Loungers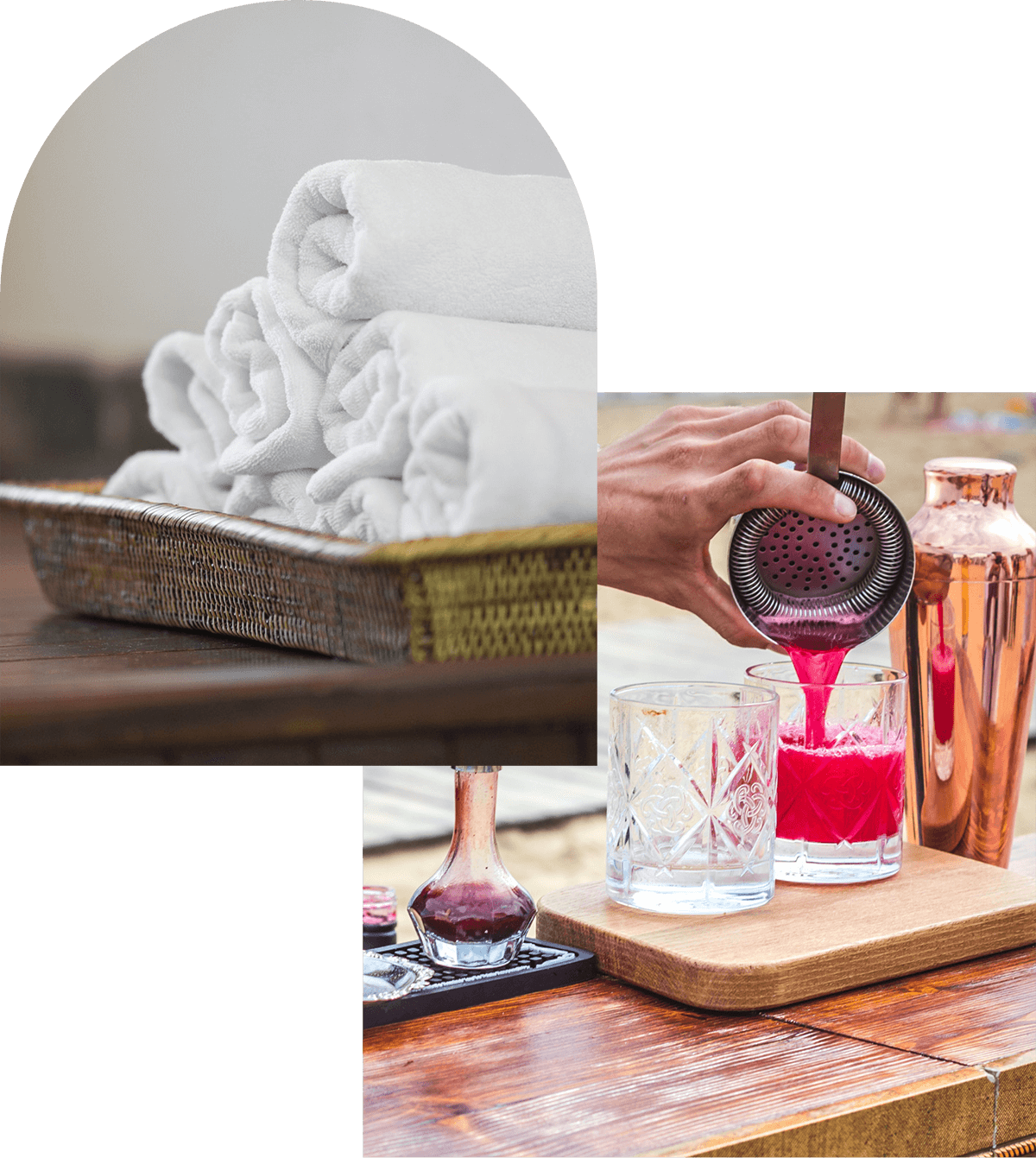 Additional services offered at Melrose Oasis
Additional information & house rules
House Rules
No Pets
No Events
No Smoking
House Rules
No Pets
No Events
No Smoking
Check In - Check Out
5:00 pm - 11:00 am
The villa address will be provide at the time of booking.

You're always our top priority–we've got you covered on all your travel needs before, during and after your stay.
Our standards are high. Each and every villa we offer has been visited or thoroughly reviewed by a member of our team.
We only work with partners we know and trust, so you can count on them to reflect our values and standards.
Our mission is to transform our experience and relationships into a unique offering for you.
Hand-selected villas with features similar to Melrose Oasis
Thank you for contacting us!
A Villa Expert will be in touch with you shortly. If you want to speak to someone immediately, please give us a call.
Toll Free: 1-888-277-8882
International: +1 514-400-5151
Hand-selected villas with features similar to Melrose Oasis
Toll Free: 1-888-277-8882
International: +1-514-400-5151