Child friendly, Golf Course views
Pool
$1,720 - $5,000USD per night
5 Bedrooms(12 guests)
6 Bathrooms(5 ensuites)
Whether you're vacationing with family or friends, this exceptional two-story villa is the perfect haven for enjoying, unwinding, and rejuvenating. Boasting five bedrooms, each equipped with en-suite bathrooms, three of which feature charming terraces, this remarkable retreat is enveloped by lush vegetation and bathed in natural light.
When you arrive at Casa Calma, you immediately feel the peace, the quiet, the tranquility. A sensation that is perceived thanks to the surprising mix of Mediterranean simplicity, Mexican craftsmanship and tropical exuberance. A careful selection of handcrafted pieces, natural materials and ancestral styles give off the restorative energy of things, made by hand, with soul.
You will see that Casa Calma is an organic villa, where art and crafts go hand in hand, with unique pieces from Mexico and Spain, but also from the Dominican Caribbean, India or Morocco personally chosen by their owners, a writer and fashion editor, and her husband. "We are Mediterranean, we have lived in Mexico for 11 years and we fell in love with Punta Cana seven years ago. This temple of serenity and tranquility is located in one of the most recognized and awarded gated communities in the entire Caribbean, Punta Cana Resort.
Treat yourself and enjoy all the advantages of its spacious double-view living room; to the interior patio with whispering water fountains and to the lush garden of coconut trees and oaks with an open panoramic view of the golf course and the swimming pool. The second floor has a comfortable work and study area with a large two-seater desk and a library with an exquisite collection of large-format fashion, art, jewelry and travel photographic books and a large chaise longue sofa in front of a television 80 inches. High speed Wi-Fi in every corner of the house. Musical home automation through the home's Wi-Fi controllable from the phone with High Quality speakers in the main social areas of the house, swimming pool, gazebo, living room, interior garden, porch and terrace.
Outdoor, Casa Calma has absolutely everything you could need to spend the most spectacular day with your loved ones, with beautifully manicured garden areas and plants that surround you in all spaces. Take a morning swim in the west-facing infinity pool that receives sunlight throughout the day, enjoy the sunset from a submerged bench facing the sunset, swim in a 55-foot channel, and then lounge on one of the six loungers in the sun or on one of the three water loungers.
NOTE: SALT WATER POOL that revitalizes and reduces skin dryness. No chlorine, no irritation, no redness.
Enjoy reading under the palapa or dine in the large barbecue area (which has three barbecues for delicious paellas, or gas or charcoal grills) with bar and outdoor dining table. Delight in four dining areas; 10-seater indoor dining room, dining room on the 10-seater porch open to the American kitchen, 10-seater high barbecue table, or four-seater tables each next to the fountains in the interior patio. Kitchen is also equipped with ice machine and wine cooler.
Also four comfortable seating areas to relax; Double height ceiling lounge, Palapa next to the pool, large porch and spectacular 393 square foot upper terrace with views of the golf, sunset and lakes, all equipped with elegant and comfortable furniture with sofas and chaise longues. Massage bed is available too.
Recently opened in June 2021, Casa Calma is a luxury villa with an ecofriendly spirit that breathes the air of the times with cross currents that allow you to enjoy a gentle breeze as an alternative to the constant use of air conditioning. Its outdoor and indoor areas blend harmoniously into a single space of relaxation and calm.
Maximum Occupancy: 12 people, including children
Additional Services:
Grocery List *Babysitter Massages in the villa
*Requested 48 hours in advance
Golf Carts:
4 Passenger: From US$ 45
6 Passenger: From US$ 60
Please note that at least 1 member of the staff will be staying 24 hrs at the villa. Members of the staff will remain in the staff area when not working or sleeping hours.
Area Description
This beautiful villa is located in the exclusive gated community of Punta Cana Resort & Club, a 26-square mile paradise that is blessed with a temperate year-round climate, light rainfall, and soft breezes. It's colorful coral reefs, calm crystalline waters and white-sand beaches are breathtaking. The Resort provides a matchless experience for all who visit this tropical paradise, and its tropically chic lifestyle is ideal for those who appreciate high standards of quality, comfort and aesthetics. As guests of the villa, you have access to all of the resort amenities and activities.
Golf
Tennis
Sailing
Windsurfing
kite surfing
Snorkeling
Scuba diving
Deep-sea fishing
Horseback riding
fitness center
SPA
Note: these services incur in additional cost
Bedroom 1

King bed
Ensuite Bath
Air conditioned
Ground Floor - Master: Double vanity, ensuite bathroom with tub, TV

Bedroom 2

2 Queen bed
Ensuite Bath
Air conditioned
Ground Floor: TV

Bedroom 3

2 Queen beds
Ensuite Bath
Air conditioned
Ground Floor: TV

Bedroom 4

King bed
Ensuite Bath
Air conditioned
Second Floor - Master Bedroom: Double vanity, ensuite with tub, TV

Bedroom 5

King bed
Ensuite Bath
Air conditioned
Second Floor - Master
Fully-equipped villa, offering
many features and amenities
Indoor
Central AC
Wifi
Media Room
TV
Indoor Sound System
Library
Home Office
Outdoor
Pool

SALT WATER POOL that revitalizes and reduces skin dryness. No chlorine, no irritation, no redness.

Alfresco Shower
Alfresco Dining
BBQ
Outdoor Sound System
Beach Chairs and Loungers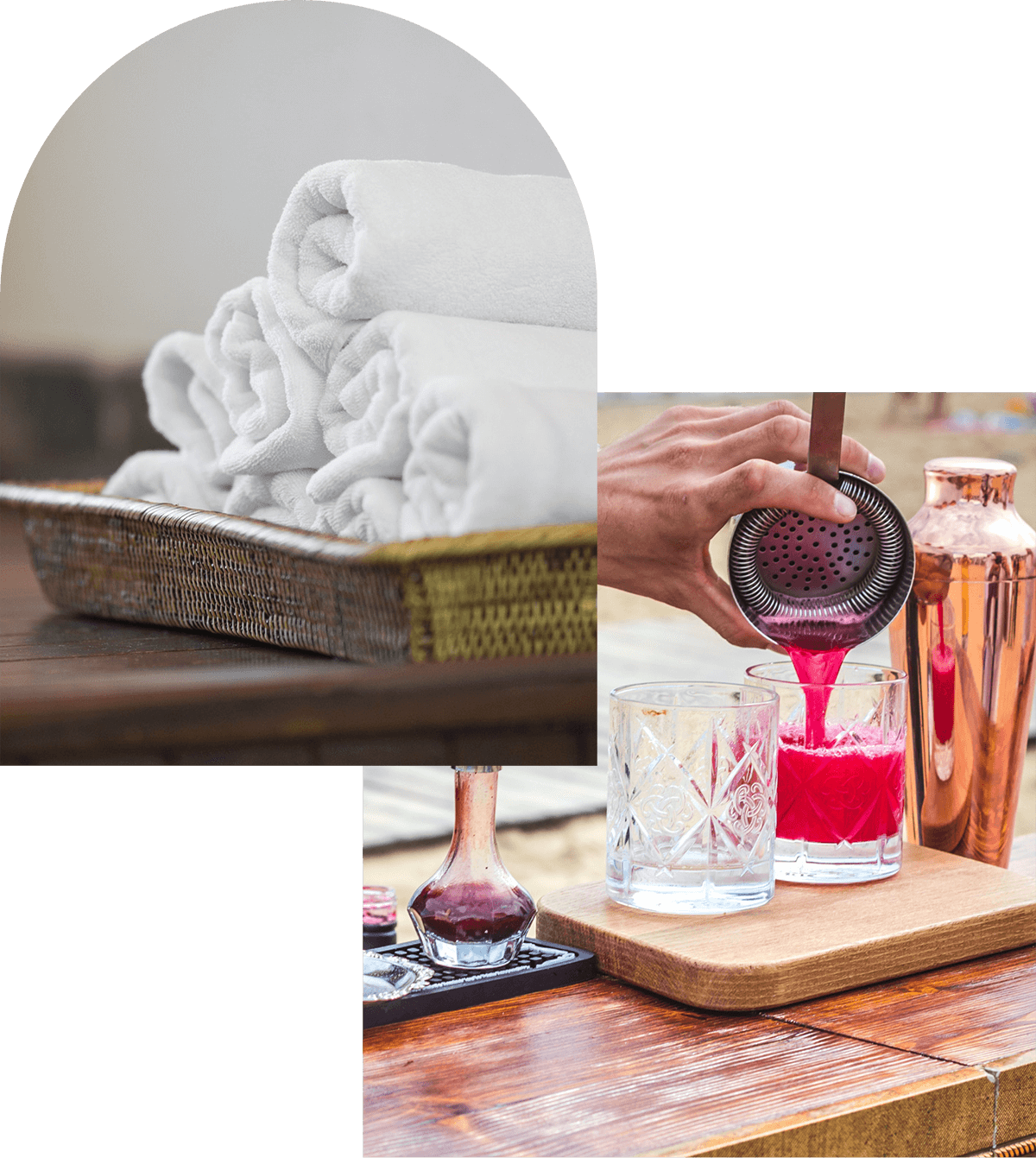 Additional services offered at Casa Calma
Included
housekeeper

Daily Maid Service

chef
butler
concierge
Airport transfer
Add-on
Car Rental
Pre Stocking
Child Care
Spa Services
Additional information & house rules
House Rules
No Pets
No Events
No Smoking
House Rules
No Pets
No Events
No Smoking
Per resort rules, all visitors and guests must be registered at least 24-48 hours prior to entry, please provide your concierge with all guest IDs or Passports. This helps ensure safety on resort premises.
Guests not on the original booking list must be pre-authorized and within the villa's maximum occupancy.
Check In - Check Out
4:00 pm - 10:00 am
Dominican Republic, Punta Cana
The villa address will be provide at the time of booking.

You're always our top priority–we've got you covered on all your travel needs before, during and after your stay.
Our standards are high. Each and every villa we offer has been visited or thoroughly reviewed by a member of our team.
We only work with partners we know and trust, so you can count on them to reflect our values and standards.
Our mission is to transform our experience and relationships into a unique offering for you.
Hand-selected villas with features similar to Casa Calma
Thank you for contacting us!
A Villa Expert will be in touch with you shortly. If you want to speak to someone immediately, please give us a call.
Toll Free: 1-888-277-8882
International: +1 514-400-5151
Hand-selected villas with features similar to Casa Calma
Toll Free: 1-888-277-8882
International: +1-514-400-5151