Estate, Family friendly
Pool
Ocean View
Beachfront
$2,795 - $28,500USD per night
15 Bedrooms(36 guests)
15 Bathrooms(15 ensuites)
Having worked with Aquamare for many years, we have known this to be an exceptional option, for guests looking for an upscale, modern home, in the BVI. They have had an amazing chef available for hire, and you won't find a better place on Mahoe Bay. Great for multiple families too.
Aquamare Estate is a secluded enclave comprised of 3 villas, each situated on a different elevation and surrounded by lush landscaping for maximum privacy, yet angled to maximize views of the breathtaking Sir Francis Drake Channel. Guests have the rare option of renting more than one villa to accommodate large gatherings of up to 36 people in one private enclave. Aquamare's private Beach Park is the ideal setting for destination weddings and small meetings.
Each 8,000 square-foot private villa has 5 guestrooms (3 of them en-suite master bedrooms), spacious living areas, professional-grade kitchens and unobstructed views of the islets in Drake Channel, affording some of the most breathtaking sunsets in the Caribbean. A separate Concierge House is located on the property to provide attentive guest services at every turn.
A Heaven of Oceanfront Elegance
We believe in taking luxury to a personal level, offering you a place where the art of being is celebrated as the ultimate goal. Giving you the discrete allure of a private villa where you feel completely treasured, with the services and amenities of a five-star hotel, is the main idea behind the Villa Aquamare experience.
A stellar team of professional designers, including renowned Swedish architect Liselott Johnsson, interior designer Jean Pierre Santoni, and landscape architects Craig Collins International set out to create a place that would embody tropical perfection. With understated elegance and sophistication in every detail, a beautiful place was created to celebrate the senses and uplift your soul.
With naturally sumptuous surroundings, these dream homes away from home were designed to cater to the most discriminating traveler. Each of the three villas is situated on a different elevation, surrounded by lush, tropical landscaping that offers maximum privacy, and features breathtaking views of the Sir Francis Drake Channel.
Interiors beyond expectation
Local stonework, rich hardwoods, travertine marble, expansive private balconies in each room, 30-feet vaulted wood ceilings, private infinity pools and spacious open-air living areas are Aquamare's hallmark features. Each villa has a fully equipped, gourmet kitchen, as well as inside and outside dining areas where the villa's chefs pamper your palate with local delicacies and prepare savory dishes for you and yours.
The grounds surrounding the villas have a variety of native specimens and ornamental gardens that have formed natural walls through the years, giving each villa its maximum privacy. Each villa was designed as a conglomerate of spaces to wind down, gather and renew the senses.
The Guest Rooms: Time for Pleasure
Villa Aquamare's attention to detail and sophisticated design make you feel like royalty at every corner, especially the ones you rest and play in. Each villa features three elegant master suites, one double room and one junior suite, and accommodates up to 12 guests. Rooms are very spacious and have over 1,000 sq/ft of room for you to feel at ease, pampered to your heart's content.
Beds were carefully selected for maximum comfort and a pillow menu offers you a choice of 25%/75%, and 50%/50% non-allergenic foam pillows, not to mention the delicate Frette linens, towels and bathrobes available. Wide, open balconies give you a sense of expansion and let you admire the luscious view while you dawdle in a hammock. You can also opt to curl up with a great book inside the in-room living spaces to escape and unwind in tranquility and privacy.
The pièce de résistance is located in each of the spa suites: open, yet completely sheltered and private 9- by-12-foot marble baths with separate outdoor shower rooms. The spacious shower rooms open to the beautiful outdoors with large 12-inch diameter shower heads for maximum down-pour.
The Beach Park: Perfect Outdoors
Another of Aquamare's distinguishing features is its private white sandy beach area, known as the "Beach Park", which is located in front of the villas. The area features a thatched palapa for relaxing, lounge chairs and is attended by Aquamare's heedful staff to provide chilled towels, water and other comforts. The Beach Park also features Aquamare's signature Dream Bed, a king-sized day bed suspended over the sand, ideal for reading, napping or watching the sunset with cocktails à deux.
The villa's common area is slightly raised for better water vistas, and set back from the shoreline. The Beach Park is perfect to unwind, escape with a good book or sip a cocktail while watching a spectacular sunset.
Guests renting the Aquamare Estate have the benefit of its exclusive use for dinner parties, events and weddings.
The Staff
Our villas are fully staffed to take care of your party's every need. Whether it's stocking up your kitchen with gourmet goods, cleaning up after a party, bringing extra pillows or recommending the best restaurants in town, our team is there to make your stay a flawless experience.
Our resident concierge provides unparalleled service at every turn and is backed by your villa team: the Head Maid, two housekeepers, and a beach attendant that takes care of your comfort.
Bedroom 1

1 King Bed
Ensuite Bath
Air conditioned
Spa Suite - Jacuzzi tub - Outdoor shower - TV - Balcony

Bedroom 2

1 King Bed
Ensuite Bath
Air conditioned
Spa Suite - Jacuzzi tub - Outdoor shower - TV - Balcony

Bedroom 3

1 King Bed
Ensuite Bath
Air conditioned
Spa Suite - Jacuzzi tub - Outdoor shower - TV - Balcony

Bedroom 4

2 Queen Beds
Ensuite Bath
Air conditioned
Jacuzzi tub - Outdoor shower - TV - 2 Balconies

Bedroom 5

1 King Bed
Ensuite Bath
Air conditioned
Junior Suite (Studio Room) - Jacuzzi tub - Outdoor shower - TV
Fully-equipped villa, offering
many features and amenities
Indoor
AC throughout the home
TV
Sound System
Outdoor
Pool
Jacuzzi
BBQ
Kayaks
Beach Park (Shared between 3 villas)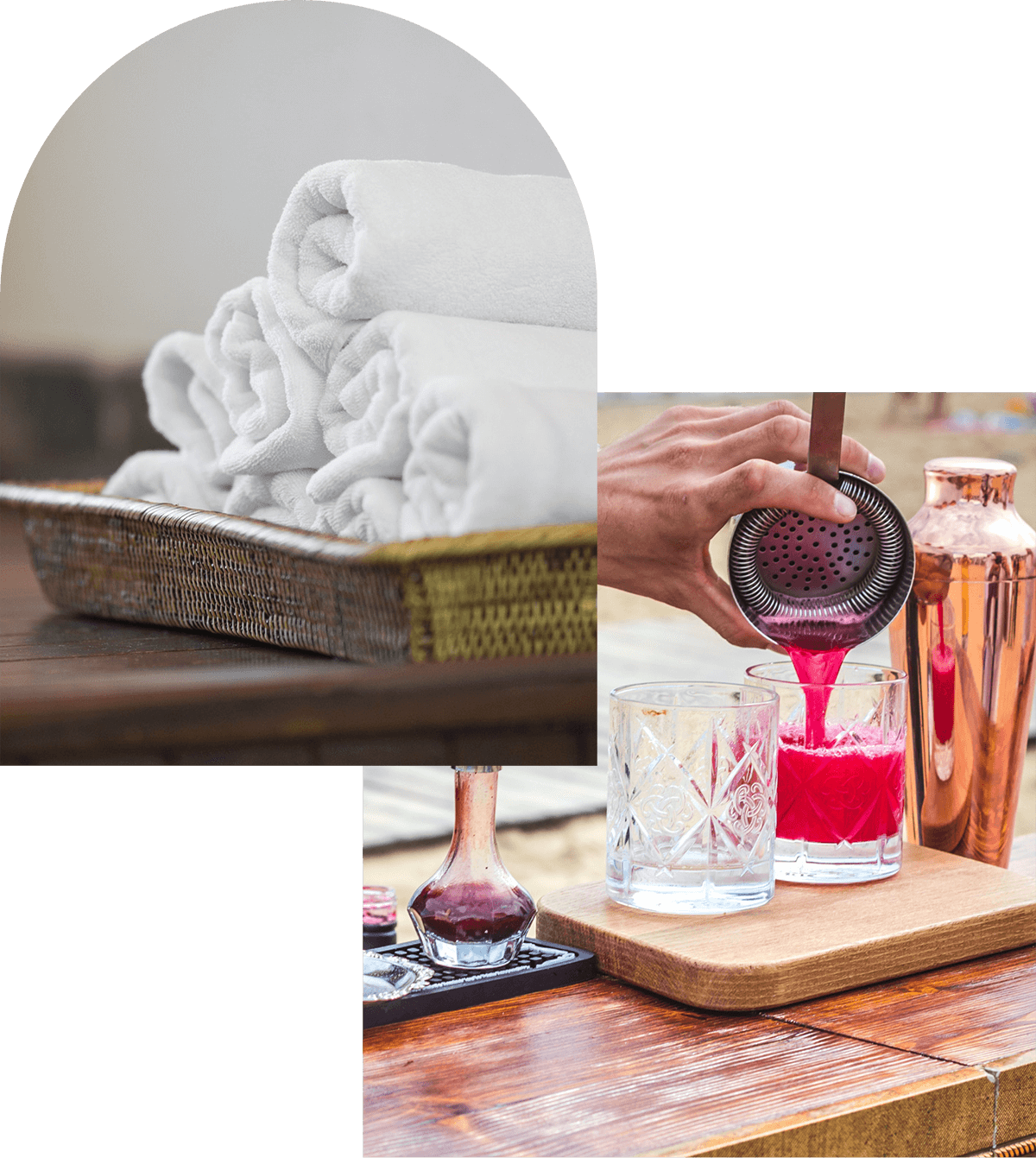 Additional services offered at Aquamare Estate
Additional information & house rules
House Rules
Pre-Arrival COVID test may be required
House Rules
Pre-Arrival COVID test may be required
Check In - Check Out
4:00 pm - 10:00 am
The villa address will be provide at the time of booking.

You're always our top priority–we've got you covered on all your travel needs before, during and after your stay.
Our standards are high. Each and every villa we offer has been visited or thoroughly reviewed by a member of our team.
We only work with partners we know and trust, so you can count on them to reflect our values and standards.
Our mission is to transform our experience and relationships into a unique offering for you.
Hand-selected villas with features similar to Aquamare Estate
Thank you for contacting us!
A Villa Expert will be in touch with you shortly. If you want to speak to someone immediately, please give us a call.
Toll Free: 1-888-277-8882
International: +1 514-400-5151
Hand-selected villas with features similar to Aquamare Estate
Toll Free: 1-888-277-8882
International: +1-514-400-5151