Pool
Hot tub
Ocean View
Walk to Beach
$4,000 - $10,000USD per night
11 Bedrooms(30 guests)
9 Bathrooms( ensuites)
Fall under the spell of Captiva Island while savoring the utmost in private luxury with a stay at Sea Oats, a palatial, 10,000-square-foot estate rental on four gated waterfront acres that...
Fall under the spell of Captiva Island while savoring the utmost in private luxury with a stay at Sea Oats, a palatial, 10,000-square-foot estate rental on four gated waterfront acres that offers the backdrop for lifelong memories.
The largest private home vacation rental available on either Captiva or Sanibel islands, Sea Oats Luxury Estate—which includes 11 bedrooms, 10 bathrooms, and sleeps up to 30 guests comfortably—provides absolutely one-of-a-kind luxury accommodations that come enhanced with impeccable concierge services to completely personalize your experience. The whole package delivers, without question, one of the dreamiest private getaways in Florida, whether serving as headquarters for a family vacation or a retreat.
Here, set along a serene waterfront overlooking the lush refuge of Buck Key, your every comfort and whim are attended to as you drink in the sunshine with a slight breeze of salty air. From the fully equipped kitchen and sumptuous sleeping quarters to the superb Great Room and the irresistible second-level terrace, Sea Oats hits all the right notes when it comes to upscale comfort and aesthetics.
This is a genuinely exquisite luxury home that's yours to enjoy as your very own, tucked away in spacious, resplendent privacy and yet with all the attractions and activities of Florida's southwest coast at your fingertips.
The beautifully landscaped grounds of Sea Oats include lighted tennis courts, a half-basketball court, and, of course, the grand heated swimming pool, surrounded by loungers, outdoor sofas and serviced by a pool bar and grill.
Succumbing to the seductive charm of Captiva Island is easy when you're relaxing waterfront, scanning for dolphins and manatees and watching the vivid spoonbills and graceful brown pelicans cruise by. You'll likely be spending plenty of time at the private Sea Oats Gulf-side beach, the perfect place to sunbathe or hunt seashells along the surf. As a guest here, you've got a full assortment of complimentary beach equipment at your disposal, not to mention fishing rods, bait boxes, and other tackle to cast for snook, sheepshead, snapper, redfish, and more.
Spend the afternoon taking a kayak or paddleboard out on the calm waters at your doorstep, exploring the glassy expanses of the lagoon or winding your way through mangrove corridors that feel worlds away from everything. When you're not paddling, consider riding your bike to Sanibel Island.
Whether it's the convenience of a private chef or massage or the pleasures of an excursion—sunset cruises or sportfishing trips, sightseeing in Sanibel's J.N. "Ding" Darling National Wildlife Refuge—our concierge team can arrange any number of outings and on-site services to make your Sea Oats experience even more transcendent.
Concierge Services
Creating a one of kind experience at Sea Oats Luxury Estate is seamless with the guidance of the onsite team. This private estate has been thoughtfully and luxuriously outfitted by loving owners.  The smallest details are never overlooked allowing for ultimate relaxation and fun while visiting Captiva Island.
It's not just the beauty and ample amenities of the estate itself, or its stellar waterfront setting and local Sanibel Island, that sets the Sea Oats experience apart. It's also the array of concierge and planning services. The concierge team is happy to facilitate any number of arrangements from pre-arrival stocking of the kitchen  and bar to the services of a private chef, bartender, server, and housekeeper.
And from onsite experiences such as tennis lessons, massage sessions, and wine & spirits tastings to curated activities and tours around Captiva and Sanibel islands and beyond, our concierge options are just about endless.
The team is here to enhance the vacation experience, whether by simply recommending local restaurants or setting up boat tours, sportfishing charters, eco-tours, beach yoga, on-site wine or spirit tastings, and any number of other concierge curated activities.
To-Do
From tennis matches and poolside gatherings on the estate grounds to paddles through the mangroves and hours blissfully spent on spectacular beaches, the "to-do" list at Sea Oats is full of options for every guest.
Whether it's rest and relaxation or adventure filled days, this Captiva Island estate, is the ideal destination. Bask in the quiet mornings watching the sunrise on the dock to evenings with the family around the fire. Learn more about activities, tours, and other adventures at Sea Oats Luxury Estate.
Sea Oats offers complimentary fishing poles, tackle, bait boxes, nets, and a variety of fishing locations for the angler in you. From the beach, guests can cast their lines to catch snook, sea trout, whiting, sheepshead, flounder, mackerel, and pompano. Off the dock, anglers have the chance of catching redfish, snook, sheepshead, black drum, snapper, and many other species. Get ready to enjoy your catch of the day at Sea Oats with our freshwater cleaning station.
As a Sea Oats guest, one week stays include open-top kayaks, singles, or tandems, which can accommodate up to two adults and a child. Looking for more adventure? Try one of paddleboards as you explore the bay. Our equipment is in new condition and stored indoors, and we have plenty of clean life vests in an assortment of sizes. Our favorite outing is a paddle down to the lagoon or hurricane hole on Buck Key. For those who are unfamiliar, hurricane holes are locations where boats can take shelter from the brunt of hurricanes. Ours has high freshwater content, and the entrance is hidden so we provide a map and directions. Once you're in, you can explore the lagoon and return home or take the mangrove trail, which feels like you're immersed in a rainforest. The trail is dotted with small shell mounds leftover from the Calusa tribes who inhabited what is now Buck Key.
Sea Oats offers all of the beach day essentials you'll need. From chairs and loungers to beach umbrellas, coolers, a beach cart, sand toys, boogie boards, and more are also available for your use. Best of all, enjoy some peace and quiet on our beach, as we are more than a mile from the nearest public beach access. Guests can take walks on the beach and have lunch at a nearby restaurant or bring their own. For those who prefer not to get sand between their toes, we also have loungers available on the dock. You will notice some areas on the beach that are roped off, which often means there are sea turtle nests marked off for their protection. Sanibel and Captiva are two of the most desirable hatching locations for sea turtles in North America.
Explore the expansive waters of the bay on our stand up paddleboards, easy to use fiberglass boards that are stable and lightweight. Go for a paddle in our backyard or launch from the beach. Our area is great for paddleboarders, offering protected estuaries so that there is no worry about surf or boat wakes. Connect with our concierge to choose your route depending on personal ability.
Enjoy a game of tennis anytime during the day or into the night on our lighted court. We have adult and kids' racquets on hand, free of charge. We also offer a complimentary sleeve of new balls for the best in-game experience possible. There is seating around the court for spectators. Our personal favorite is a late-night game of tennis ⎯ always exhilarating. If you're looking to take your game up a notch or are just beginners looking to learn, we have preferred pros (former tour and/collegiate players) who will help you fine-tune your game at a very reasonable price. The court can also be conveniently converted to pickleball. Racquets, balls, and equipment are located in the home's stocked garage.
Returning back to the estate from the beach in the afternoon, fire up the barbeque or settle in for the chef's grilled masterpieces. A cocktail awaits at the fully stocked poolside outdoor bar. Coordinate curated experiences with our concierge like a luxe poolside wine tasting in the evening.
The unique "U" shape of Sea Oats' estate surrounds the pool and protects it from the elements during winter months. Enjoy the opulent pool year round or relax poolside on loungers, outdoor sofas, and chairs for your comfort. Ample beach towels, pool toys, and floaties are available for use, and a convenient poolside shower and bathroom make it easy to spend days outside. Up for a little competition? Play poolside ping pong for added entertainment.
We are happy to arrange a fishing and/or boat tour for you and your group. Depending on the size of your group, in most cases we can arrange for you to be picked up at our dock. You will spend most of your time in Pine Island Sound's protected waters, there are no large waves. As a bit of added fun for guests of all ages, it is quite common to encounter pods of dolphins in the sound who like to chase the boat wakes. You can also speak directly with your captain about stopping for lunch at Barnacle Phil's on North Captiva or a favorite, Cabbage Key, which is rumored to be the inspiration for Jimmy Buffett's Cheeseburger in Paradise. Behind the bar you can see pictures of the young Mr. Buffett.
If you have a specific event or tour in mind, we're happy to help you arrange something unique. Spring Baseball Training? No problem. We have relationships with the front offices for the Twins and Red Sox and can arrange for tickets and transportation to and from the game. If you prefer nature outings, we can provide a private or group tour of the Everglades with transportation. Maybe you're looking for a shopping tour of the outlets and dining on the water… our experienced team is happy to offer concierge services.
Sea Oats' location overlooking Buck Key is perfect for viewing all of the area's beautiful wildlife and flora. Depending on the time of year you can watch dolphins swimming nearby, manatees hanging out by the dock, and an occasional sea turtle sunning itself at low tide. The islands are also home to many beautiful birds, including roseate spoonbills (which are often mistaken for flamingos), ospreys, eagles, herons, egrets, pelicans, and many, many others. Enjoy your morning coffee or evening drink while watching this incredible show.
Amenities
Complimentary Welcome Gift
No-Fee, Commercial Grade WiFi Network
Secure & Private Property with Security Gate
Natural Spring Water, including two individual cases of bottles
Extensive Collection of Board Games & Reading Library
Sonos Sound System with Bose Speakers throughout the house
Flat Screen HDTV with Cable in each room, and Netflix, TV, YouTube, provided free of charge
Completely Stocked Kitchen & Bar
Bathroom Amenities in Every Bathroom (toothpaste, toothbrushes, deodorant, razors, shaving cream, Q-tips, sunscreen, shampoo, conditioner, soap)
Paper Products (paper towels, toilet tissue, Kleenex)
Kitchen Products (dishwasher detergent, sponges, and more)
Glassware, Dinnerware, Serving Platters & Utensils for 30+ guests
Fine China, Platters & Silverware for 30+ guests
Wine (White, Red) Glasses for 30 guests
Beach Equipment (chairs, umbrellas, toys, coolers, games, and more)
Fishing Equipment (poles, tackle, bait boxes, nets)
Tennis Racquets for Adults and Children (tennis balls included)
Sports Equipment (basketballs, soccer balls, volleyballs, cornhole toss, badminton, and more)
Bath Towels and Beach Towels for 30+ guests
Laundry Soap (4 washers and dryers available for use)
Fully-equipped villa, offering
many features and amenities
Indoor
Central AC
Wifi
TV
Xbox
Nintendo
Fireplace
Outdoor
Pool

Heated

Hot tub
Tennis Court
Basketball Court
Private Dock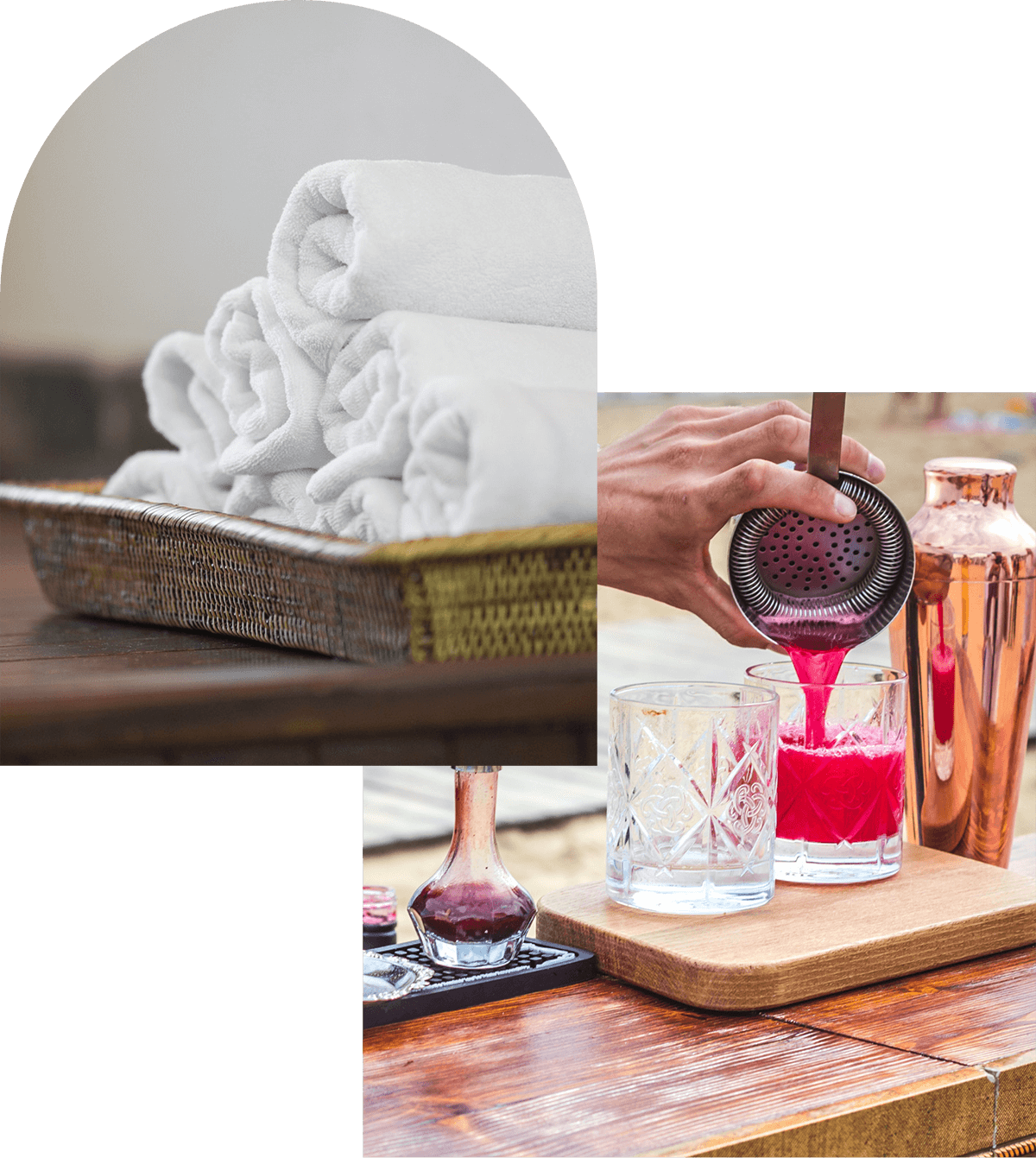 Additional services offered at Sea Oats
Additional information & house rules
Check In - Check Out
4:00 pm - 10:00 am
The villa address will be provide at the time of booking.

You're always our top priority–we've got you covered on all your travel needs before, during and after your stay.
Our standards are high. Each and every villa we offer has been visited or thoroughly reviewed by a member of our team.
We only work with partners we know and trust, so you can count on them to reflect our values and standards.
Our mission is to transform our experience and relationships into a unique offering for you.
Hand-selected villas with features similar to Sea Oats
Thank you for contacting us!
A Villa Expert will be in touch with you shortly. If you want to speak to someone immediately, please give us a call.
Toll Free: 1-888-277-8882
International: +1 514-400-5151
Hand-selected villas with features similar to Sea Oats
Toll Free: 1-888-277-8882
International: +1-514-400-5151